A music legend credits the love and support he had as a child as a main factor in his success, while also generously advocating for those who don't. 
There are not alot of artists with the kind of resume Johnny Mathis has. In fact, hardly any.
I mean, look at the stats, the third biggest selling artist of the 20th century, next to Elvis and Frank? 360 million-plus records sold? Seventy-three albums (and counting) on the Billboard charts? And so on. Pretty unparalleled in the annals of recorded music. And it was none other than Barbra Streisand who reportedly once said, "There are a number of good singers, a smaller band of great singers, and then…there's Johnny Mathis."
But even a musical legend like Mathis doesn't have to go too far to thank the one person who really made his career what it is today, and actually, is the main reason he sang at all.
"My Dad was the reason for me singing," Mathis, 82, said from his home in California. "We were pals, and he was a vaudevillian and he knew music. I had sung alot as a kid, for relatives, friends, in church, but he told me if I really wanted to be a singer as a career, I needed a voice teacher, so he found Connie Cox. We had no money, so she said if I took care of her apartment, you know, and kept things straight there while she was giving lessons to paying customers, she'd give me lessons. I will never forget her for that, and she should forever be recognized for her generosity. And same with my Dad, my singing, it was all because of him."
Mathis went from his Dad's urging and Connie's tutelage to reaching truly stratospheric heights, becoming one of modern music's most recognizable voices, and how fortunate it's his Dad he relishes in thanking profusely for all the love and for getting him to sing at an early age.
But not all children have that kind of endless support like Mathis had throughout his childhood. In fact, there are many that are dealt the opposite hand, and suffer untold abuse and neglect. Enter organizations like Child Justice, who protect and advocate for children who have been abused or experienced domestic violence. And also enter a very generous Johnny Mathis, who will be supporting Child Justice by performing at their fund raiser here in DC on September 23rd. For tickets to the event, which includes a live auction that has a round of golf with Mathis, a longtime golfer, as a bidding item, click here.
"I happened to have a friend and golfing buddy who even though we were good friends, I never knew he was connected to alot of different types of causes," Mathis said. "And Child Justice was one. I told him I'd be happy to help out if he ever needed me, and I am very proud to be part of this event, which is for such an important and worthy organization like Child Justice."
And the privilege (and drawing power) of having a true legend like Mathis perform at your fund raiser? It's like magic to Child Justice.
"We are beyond thrilled that a world-renowned recording artist and singer such as Johnny Mathis is going to use his amazing talents to support Child Justice and our quest to offer hope to children who have been exposed to violence and abuse at home as well as other traumas," said Eileen King, executive director of Child Justice, in a recent press release. "The funds raised from his performance will allow us to continue to offer pro bono legal services to these children who get lost in the system."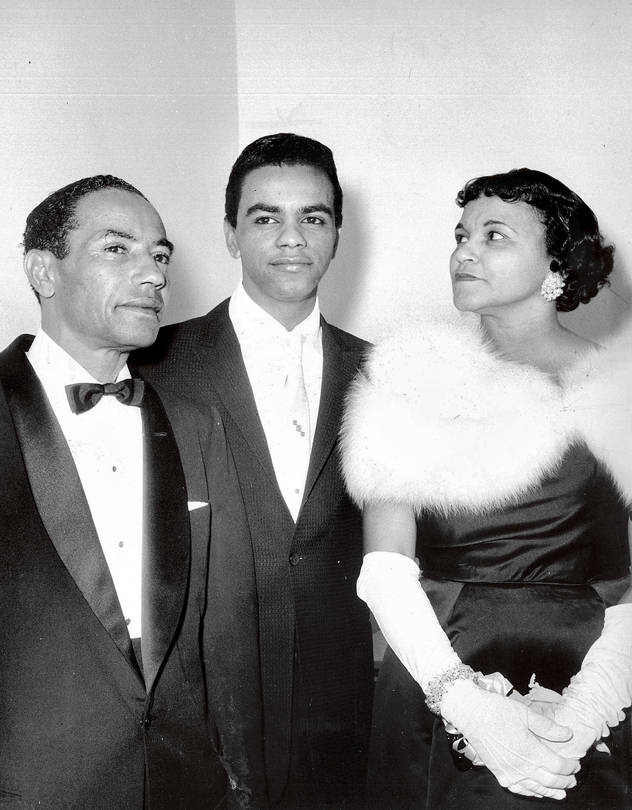 Because his family was poor, Mathis excelled in things that were, well, free, like school and related sports, and was a standout track and field star who was even on the brink of an Olympic berth when he had to make a huge decision: singing, or jumping and running. "And wow, thank God I chose music, another decision my father helped me with," he said. "I think it turned out pretty well."

Mathis' velvet voice and his unforgettable music are timeless — "Chances Are," "It's Not For Me To Say" and "Misty" come to mind as perhaps the top three hits out of many in his storied career — and will be heard coming out of people's turntables, CD players, devices and streaming services as long as humans roam the earth. But one of the aspects of his career that equals almost any other in its popularity and reverence is his Christmas music. I mean, it wouldn't be Christmastime without hearing his versions of "It's Beginning To Look Alot Like Christmas" or "Winter Wonderland," right? And once again, Mathis credits his father, his parents, with providing another special element of his childhood, instilling the love of Christmas and its music in him at an early age.

"I was one of seven kids, and my parents did everything they could to make Christmas and the holidays special for us even though we had no money," the humble and kind Mathis said. "And that included the music of the season. Years later, after I'd had a couple of hit records, the record company, graciously I guess, asked me what kind of music I wanted to sing, and I told them, 'I want to do an album of Christmas songs for my Mom and Dad.' That's kind of where that began. And you're right, for some it's the most recognized and remembered part of my career."

Johnny Mathis is a true American treasure, not only because of his timeless music, and his humility, but also because of his repeated generosity in supporting important organizations like Child Justice.

"Not all kids get the kind of love and support I had from my parents, and so many need care and someone to protect them. There's always a time to give back."

Tags: